According to recent data, the number of international applicants and first-time enrollees for US graduate programs has increased
According to recent data, the number of international applicants and first-time enrollees for US graduate programs has increased
The International Graduate Applications and Enrollment: Fall 2021 report from the Council of Graduate Schools (CGS) shows that international applications to US graduate programs grew by 12% in that semester. The data in the report was gathered from 744 US schools and institutions for the CGS International Graduate Admissions Survey.
The third year in a straight that there has been growth results in a 12% increase, or 852,006 applications, and the number of applications for master's and certificate programs is larger than fall 2018, which set the previous record.
Commenting on the data, Suzanne T. Ortega, president of CGS, said,
"These findings are a strong sign that, despite changes brought on by the pandemic, the United States remains a destination of choice for international graduate students."
India rising
Indian students are the ones driving the growth; in the autumn of 2021, the number of applications from India increased by 36%. For the first time in five years, the rate of increase in applications from India surpassed that from China, according to CGS. Chinese applications decreased by 16%.
Once more, India is a significant factor in the increase in enrollments: the number of Indians enrolling for the first time in US graduate programs increased by a staggering 430%, compared to 35% for Chinese students.
This growth is primarily the result of the high rates of delay by Indian students during the pandemic; CGS explains that "Basically, fall of 2021 saw Indian students from two consecutive application years matriculating at the same time."
Students from India and China are more drawn to master's programs than students from Iran, South Korea, the Middle East, and North Africa, who choose doctoral programs.
In total, 78% of all first-time international students enrolled in US master's and certificate programs are from Asian nations.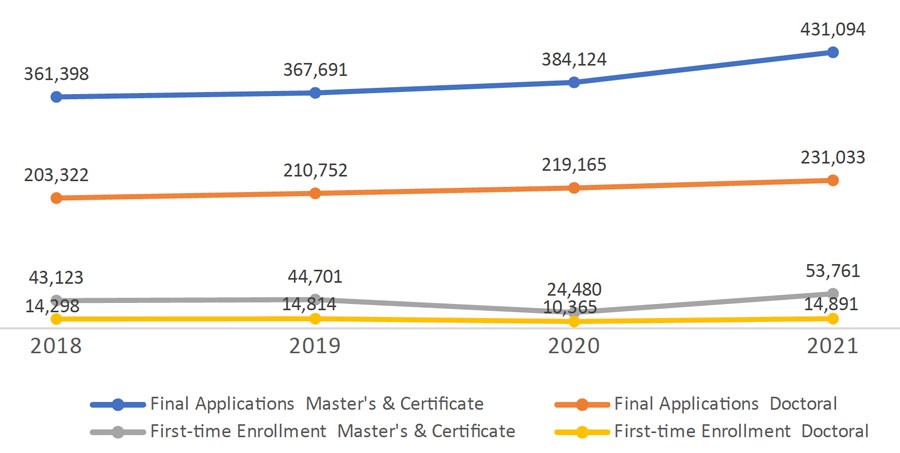 Total international graduate applications and first-time enrolment by degree type, 2018-2021. Source: CGS
Nearly two-thirds (64%) of all graduate applications came from Chinese and Indian students combined. According to CGS, "Indian nationals increased their share of master's and certificate applications by six percentage points last year, while the share of Chinese nationals' master's and certificate applications declined by nine percentage points from the prior year."
Other sending markets also seem to be doing well
The table below demonstrates that fall 2021 applications from Europe increased by 28% over fall 2020, marking the first increase from this region since 2016. Students from Latin America and the Caribbean are applying to US universities in greater numbers, up 23% in 2021. Sub-Saharan African students submitted 64% more applications than students from the Middle East and North Africa combined. For US educators, Sub-Saharan Africa has become a region of growth that is becoming more and more significant.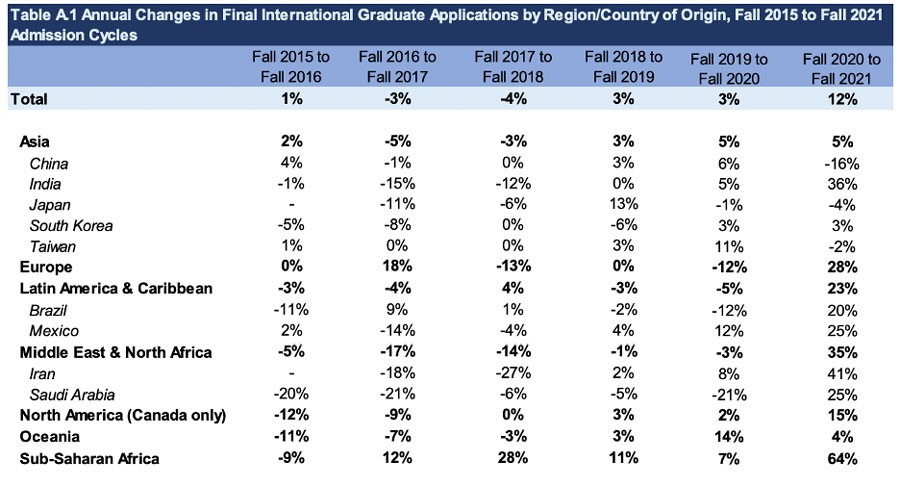 Country/regional trends in applications to US graduate programmes, 2021. Source: CGS
Popular fields of study
Only the arts and humanities saw a marginally lower number of applications (-1%). Public administration and services (+43%, and far more popular than at any point in the previous six years), education (+25%, and again much more popular than in recent years), and health sciences (+22%, another significant increase) were the fields of study where applications increased the most.
In terms of enrollment, the proportion of new international students in graduate programs in math and computer science increased significantly (+189%). Additionally, there were significantly more students enrolled in engineering programs (+129%).