The majority of US institutions report an increase in the number of applications from foreign students for 2022–2023
The majority of US institutions report an increase in the number of applications from foreign students for 2022–2023
Based on a survey of 559 US higher education (HE) institutions conducted in April, the Institute of International Education (IIE) has produced its Spring 2022 Snapshot on International Educational Exchange. International student applications are up at most universities compared to a year ago, and almost all of them are committed to providing international students with on-campus, in-person training.
The institutions that were under study were a mixture of public and private institutions that offered associate's degrees through doctoral degrees.
The majority of colleges report an improvement
US institutions are on pace for recovery given a jump in applications for degree studies in 2022–2023 after suffering sharp losses in new international student enrollments in 2020 and 2021. Comparatively to 42% last year and 22% in 2020–21, two-thirds (65%) reported an increase in applications. Only 12% of respondents claimed that fewer applications from overseas students have been made for the school year 2022–2023.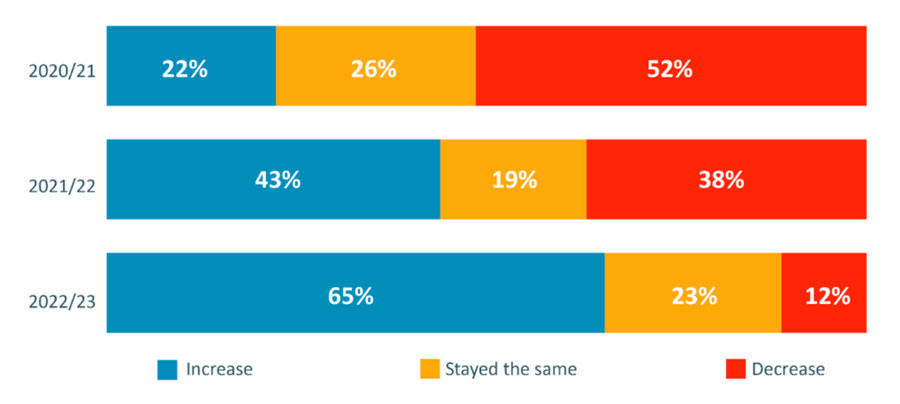 More than 6 in 10 surveyed US colleges and universities are receiving more international student applications for the 2022/23 academic year. Source: IIE
The demand for master's and doctorate degrees is particularly high. Approximately 73% of doctorate institutions and 76% of master's colleges and universities reported an increase in the number of international student applications.
Institutions are putting a lot of effort into regaining their international enrollments, committing to admissions and recruitment strategies they may not have used to a significant extent before COVID-19. For instance:
84% permit applicants to submit their applications online.

54% are allowing students to submit their test results online rather than in person.

28% have pushed out the date for applications.

25% are extending the period of time students have to accept an admissions offer.

43% are actively seeking out foreign students in person.
Many are working with agents
For the years 2022–2023, more than two-thirds of institutions are collaborating with agencies to help them meet their objectives for foreign hiring.
The IIE survey report notes,
"We asked what outreach and recruitment tools were the most useful for institutions. When considering this, reporting institutions most readily cited agents, online recruitment events, current international students, and international partnerships as the recruitment tools with the highest utility."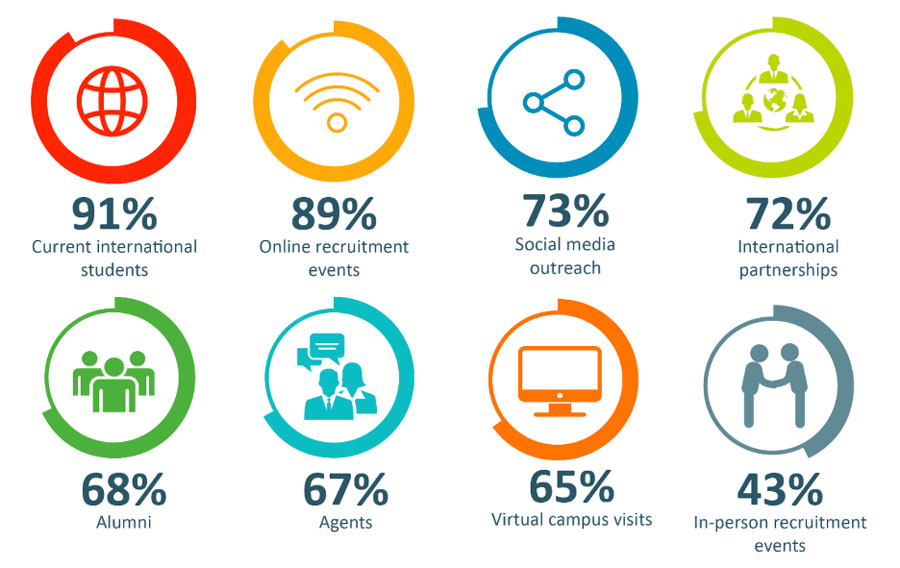 Top resources used by US colleges and universities to recruit international students for the 2022/23 academic year. Source: IIE
Now, face-to-face training is the primary method.
Compared to only 8% a year ago, more than half (55%) of the HE institutions polled said that this spring all of their students—domestic and international—were learning in-person. At the same time, the hybrid manner of delivery that gained popularity during the pandemic is here to stay. Before the epidemic, only a small number of universities offered hybrid course delivery, and the majority of them now plan to offer online choices in the future. Only 7% of HE institutions do not plan to provide virtual education in the future.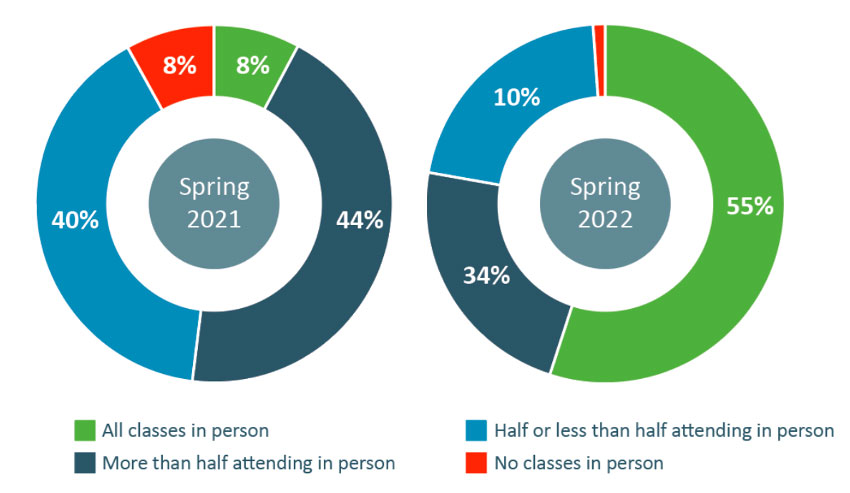 Comparing planned instruction modes of US colleges and universities in 2021 and 2022. Source: IIE
The emphasis right now is on bringing foreign students to the US so they may receive in-person instruction on campus, even if most universities will offer some courses online or through a hybrid approach. According to the survey, international online students receive fewer advising services and/or accommodations.
Only 66% of universities will enable students to postpone until spring 2023 if they are unable to travel at that time, down from 77% who did so last year. Nearly all institutions (96%) plan to offer in-person study in the fall of 2022. Only around one-third of universities will let international students enroll online until they can arrive on campus.

"What will your institution offer to international students enrolled in fall 2022?" Source: IIE
In the fall, 61% of institutions intend to offer hybrid instruction and 33% will be delivering classes in-person only.
Enrollments in higher education as a whole are dropping.
The good news regarding international student enrollment this year contrasts with a longer-term downward trend in dropping college enrollment in the US that was already present before the pandemic began. The National Student Clearinghouse Research Center's semesterly report states that this trend is continuing this year and that overall HE enrollments (including both local and international students) decreased by 4.1% in spring 2022 compared to spring 2021. Enrollments have decreased overall during the last two years by 9.4%, which translates to a loss of 1.4 million students across the US college system.
The pandemic appears to have accelerated the trend of US students opting out of degree studies. The Chronicle of Higher Education reports that "not even half of 2020 high-school graduates are pursuing higher education," an ominous sign for the US economy given that research shows students who do not go straight from high school to college are less likely than other students to earn a degree in their lifetime.
According to ECMC Group's poll of more than 1,000 high school students last year, the likelihood that students will enroll in a four-year institution will decrease by over 20% over the course of eight months between 2020 and 2021. Three times throughout that time, ECMC polled the students. According to the results of the initial survey, 71% of students intended to pursue four-year degrees. Only 53% of respondents to the third study said they planned to. The investigation, according to University World News, revealed that,
"High schoolers are putting more emphasis on career training and post-college employment. More than half said they can achieve professional success with three years or less of college, and just one-fourth believe a four-year degree is the only route to a good job."
High tuition fees for degree studies are at the root of the trend. It now costs students more than USD$50,000 per year for tuition and accommodation at private four-year colleges, and more than USD$20,000 per year at public, in-state colleges. University World News puts these fees in context: "The significant increase in the cost of college has outpaced both inflation and – even more starkly – family income over recent decades."
Price-conscious international students are aware that tuition in the US is frequently much higher than tuition for comparable degrees in other popular study destinations. More swiftly than the US, Canada, the UK, Germany, and the Netherlands have gained back lost overseas enrollments.
Scholarship provision is on the rise
A significant proportion of US colleges are offering more scholarships to entice talented students to choose them over other options – including online options. According to the QS Admissions Survey conducted in March and April 2022, one-third (32%) of North American business schools are now offering more scholarships to MBA applicants, and more than half of those are offering "significantly" more. In comparison, 25% of European business schools said they were offering more scholarships and only 3% said they were providing "significantly" more.
Because so many students are enrolling in online MBA programs, Richard Castleberry, director of MBA programs at Texas A&M University's Mays Business School, told QS that the battle for MBA students is particularly strong:
"Ten years ago or even five years ago, online study was viewed very differently but now it has really grown in acceptance. Now, there are schools whose online programmes are bringing in a large number of students, which is having an effect on recruitment to on-campus programmes."
As we previously revealed, US educators will enroll more students in online MBA programs in 2021 than in MBA programs given in-person.
Source: ICEF