Identifying skills gaps in the labor market in popular study locations
Identifying skills gaps in the labor market in popular study locations
Leading international student destinations are increasingly linking their immigration policies to skills shortfalls in their economies, as well as allowances for students working while studying or after graduation (see Australia and Canada for recent examples).
We've dedicated this piece to detailing important skills shortages in top locations right now, because many students are interested in programs with great post-graduation career prospects. International students are increasingly interested in programs that provide students with certain skills (see Nigeria and nursing, for example), and we hope that the article will be valuable for educators who are looking to sell specialized programs (e.g., outside of the traditionally popular areas of business & administration and computer science).
According to Statistics Canada, from 2019 to 2021,
"Restaurants, catering and hotel businesses more than doubled their vacant positions 86,400 job vacancies, a growth of 112.8%. Healthcare and social assistance job vacancies rose by 78.8%, or 52,100 positions. The construction sector's vacant jobs increased by 83.7%, or 34,300 positions, retail by 45.2% 32,400 job openings, and the manufacturing sector by 62.4% or 31,200 open jobs."
Meanwhile, Canada's Global Talent Stream is specifically designed to attract graduates and workers in the following areas:
Computer and information systems managers

Computer engineers

Mathematicians and statisticians

Information systems analysts and consultants

Database analysts and data administrators

Software engineers and designers

Computer programmers and interactive media developers

Web designers and developers

Computer Network technicians

Information systems testing technicians

Producer, technical, creative and artistic director and project manager – Visual effects and video game

Digital Media and Design
Vocational programs in Canada are designed to prepare students for employment. Nursing, healthcare, engineering sectors, and aerospace – as well as the credentials required for the professions – are among those with significant demand for people with vocational training.
United States
Glassdoor recently published a list of the top-paying jobs in the US (all over USD $100,000), while the US Department of Labour published "20 occupations with the highest projected percent change of employment between 2020–30," from wind turbine servicers to nurse practitioners to information technology analysts and more.
The US Chamber of Commerce noted this year, "When taking a look at the labor shortage across different industries, the transportation, healthcare and social assistance, and the accommodation and food sectors have had the highest numbers of job openings."
Respiratory therapists, dental assistants, home health aides, operations managers, and diagnostic medical sonographers are among the jobs with significant vacancy rates in the United States.
Australia
In Australia, the government's statement in fall 2021 that international students working in particular occupations would be eligible for extended work privileges gives a clear picture of the labor market areas where qualified talent is most needed. Students that qualify for a special dispensation for longer work hours include:
"Working for an aged care Approved Provider or Commonwealth-funded aged care service provider with a RACS ID or a NAPS ID;
Working for a registered National Disability Insurance Scheme (NDIS) provider;
Enrolled in a healthcare-related course and are supporting the health effort against COVID-19, as directed by health officials;
Working in the agriculture sector;
Working in the tourism and hospitality sector;
Working in a supermarket, or associated distribution facility, located in an area impacted by COVID-19 lockdown restrictions for the duration of the lockdown."
Immigration candidates who can demonstrate expertise in industries such as engineering and healthcare, as well as several other categories, have been given priority by the government. The following industries were responsible for the most approved visas in Australia in 2021: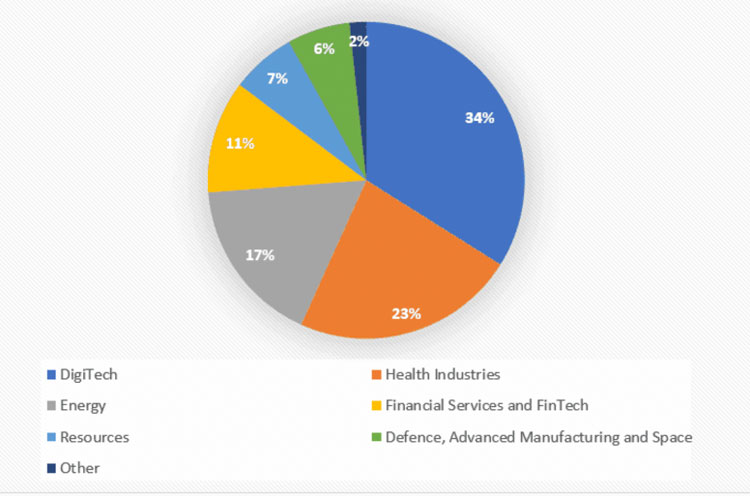 Foreigners with skills in sectors such as healthcare and digital industries were most likely to be granted Australian visas in 2021. Source: Visa Envoy
The government's Skills Priority List, published in 2021, provides a very useful insight of the skills that Australia will require the most in the future. The predicted demand for workers is ranked in terms of "strong, moderate, and soft" occupations. Here's a sample of the list: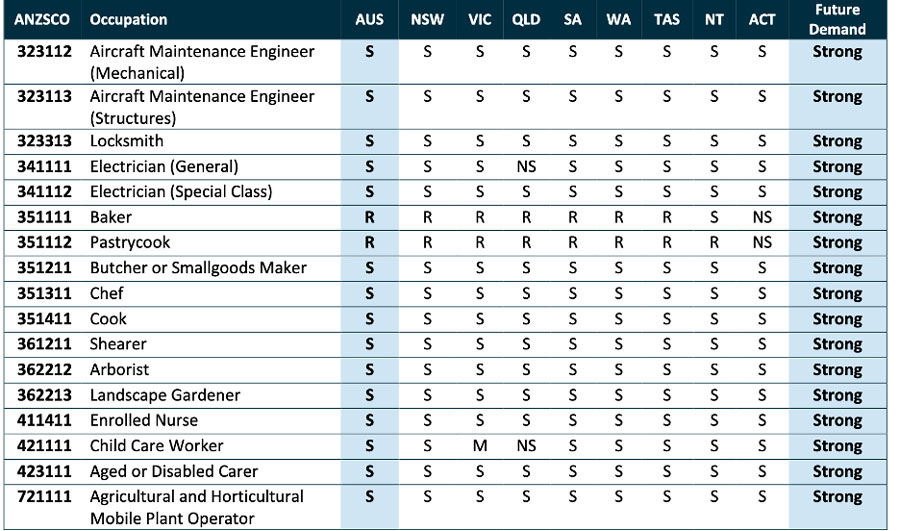 Occupations for which skills are expected to be high in Australia in the future. Source: National Skills Commission, Australian government
United Kingdom
The UK government has released its 2022 Skills Shortage Occupation List, which includes a number of significant occupations such as architects, veterinarians, welders, social workers, and paramedics, among others. The following is a description of the Skills Shortage List:
"A list of occupations which are deemed to be of short supply in the UK. Employers are allowed to hire and sponsor overseas workers in these roles under more favourable criteria than for roles that are not on the list."
Skills shortages exist in the tech business, particularly in the fields of cybersecurity, big data and analysis, and data architecture.
These were the sectors in the UK with the most job vacancies from July to September 2021: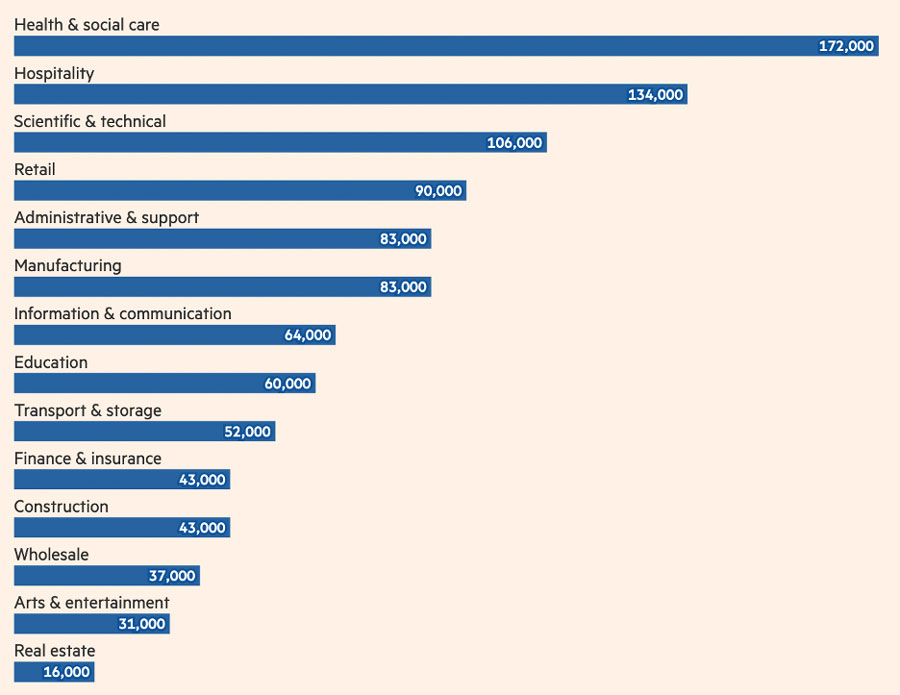 Selected industries ranked by job vacancy rates in the UK, July to September 2021. Source: Financial Times
New Zealand
New Zealand's immigration policy is linked to the economy's skills shortages. It just released a new "Green List" that will be used to determine whether certain international students are qualified for post-study job opportunities. This link will take users to the list, which will show which credentials are required for various vocations. 
Germany
Germany, like other top destinations, needs a lot more healthcare personnel, as well as workers in STEM sectors. According to the European Centre for Vocational Training, "Experts in science, engineering, business, healthcare, and teaching will be in high demand. High-level professionals in these disciplines are estimated to account for 25% of occupations. Technicians are predicted to account for 17% of positions, while clerical support professionals will account for 14%."
Aside from that, job growth is predicted to be driven mostly by farm and related labor, the services sector (i.e., professional, administrative, and financial services), and real estate and telecommunications over the next 10 years.
Source: ICEF