Australia: An overview of international student return plans
Australia: An overview of international student return plans
In recent weeks, Australian governments and territory have made a flurry of announcements. New student return pilots have been approved, and prospective students will face a variety of timetables and arrival regulations in the coming months.
If, like us, you've found it difficult to keep up with the newest developments, we hope the following overview may be of assistance. This information is current as of our publication date of November 17th, and we will update this post when new information becomes available.
Before we get started, there are a few other things to keep in mind.
First, the Australian academic year is divided into two semesters, with the first commencing in February or March (depending on the school) and the second beginning in July or August. The Australian K-12 school year is divided into four terms, which start in January, April, July, and October.
Second, in recent months, the Australian government has added to its list of approved COVID vaccines. The following vaccinations have been licensed by Australia's Therapeutic Goods Administration (TGA) as of November 17th:
Comirnaty (Pfizer)

Vaxzevria (AstraZeneca)

Covishield (AstraZeneca)

Spikevax (Moderna)

Janssen-Cilag (Johnson & Johnson)

Coronavac (Sinovac)

BBIBP-CorV (Sinopharm) (for 18-60 years old)

Covaxin (Bharat Biotech)
In order to be deemed completely vaccinated, incoming visitors must have received two full doses at least 14 days apart (or one dose of the Janssen-Cilag/Johnson & Johnson vaccine) and finished their immunization course at least seven days before arrival in Australia.
Finally, vaccination rates in Australia, which had been falling behind early this year, are starting to pick up. Around 70% of eligible Australians have been fully vaccinated against COVID-19 as of mid-November 2021.
With that framework in place, here's a rundown of the states' and territories' current student return plans.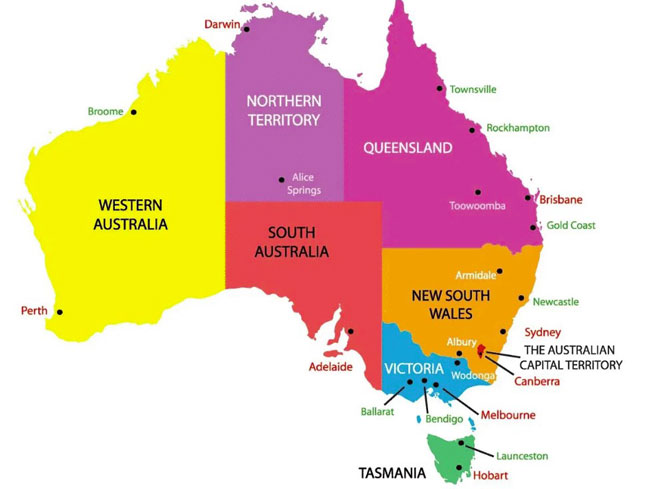 Australian Capital Territory - Capital city: Canberra
For the start of the 2022 academic year, the Australian Capital Territory (ACT) declared on October 22 that it will accept back fully vaccinated overseas higher education students.
Returning students must comply with all Australian government immunization and testing requirements, although quarantine is not required.
"It is great to have clarity about arrangements in the ACT and to know that as soon as the borders open our students can come straight home to campus," said Brian Schmidt, vice-chancellor of The Australian National University (ANU). "We will continue to work with the Commonwealth on arrangements to open the borders to students as soon as Australia safely can."
New South Wales - Capital city: Sydney
On November 12, the government of New South Wales (NSW) declared that vaccinated students will be permitted to return to the state without being quarantined.
On Monday, December 6, the first chartered plane carrying returning students under the NSW International Student Arrivals Pilot Plan will land in Sydney. Around 250 students from over 15 nations will board the flight, including Indonesia, Singapore, Vietnam, South Korea, China, and Canada.
"This is a significant milestone in our roadmap to recovery and I can't wait to welcome back such an important part of our community," said Premier Dominic Perrottet. "They don't just make a significant contribution to our economy, but international students play a role in our culture and contribute to our community and lifestyle."
Queensland - Capital city: Brisbane
Stirling Hinchliffe, Queensland's Minister for Tourism, Innovation and Sport, said on October 26 that the state will welcome international students back in early 2022. All new students must pass a two-week quarantine period at an approved facility.
Continuing students from Queensland universities will return to finish their studies in the first phase of the Queensland Student Arrivals Plan. Those studying medicine, medical research, and related health disciplines will be given priority under the plan. The state envisions a staged approach, with eligibility criteria for educators and students, as well as the number of available spots, increasing with each phase.
"While remote learning has made it possible for students to continue Queensland university studies from their home countries, we recognise it isn't a sustainable, long-term substitute for face-to-face tutorials and practical experience. We also know international students make an important contribution to the culture of Queensland cities and our regions." said Minister Hinchliffe.
South Australia - Capital city: Adelaide
The South Australian government has announced that after 90% of South Australians (aged 12+) are completely vaccinated, the state will welcome fully vaccinated domestic and international newcomers (including international students) with no quarantine time.
The 90 percent target is scheduled to be met by the end of December 2021.
On its website, Study Adelaide posts regular updates and background information.
Tasmania - Capital city: Hobart
Tasmania has also outlined a timeline for reopening, with all vaccinated overseas visitors being permitted to enter without being quarantined starting on December 15th. All arriving passengers must have a COVID-19 test that is negative.
Victoria - Capital city: Melbourne
Victoria has also approved a trial program for safe student return, which will require students to undergo a 14-day quarantine. In December 2021, the first charter flights with returning students are scheduled.
Western Australia - Capital city: Perth
Western Australia (WA) has stated that fully vaccinated overseas students would be welcomed back in time for the start of the next academic year in February 2022.
When Western Australia achieves an 80 percent double vaccination rate, which is estimated in December 2021, the formal reopening date will be set.
In the meantime, Eduction Minister Sue Ellery has confirmed that the government anticipates a reopening date in late January or early February 2022, which would "allow eligible international students to arrive in time for Semester 1 2022 or to commence any required English language tuition or other preparatory courses before Semester 2."
Northern Territory - Capital city: Darwin
Nicole Manison, the territory's international education minister, revealed earlier this month that the territory is working on a plan that would be submitted to the national government for approval. If approved, chartered flights will begin landing returning students in the territory in January 2022.
"International students are a massive contributor to the territory's economy, with each student contributing an average of AUS$40,693 each year," the minister explained to ABC News. "By facilitating a pathway for international students to return to the territory and to Australia, we are helping to diversify the economy, grow our population, and support local jobs."
Source: ICEF